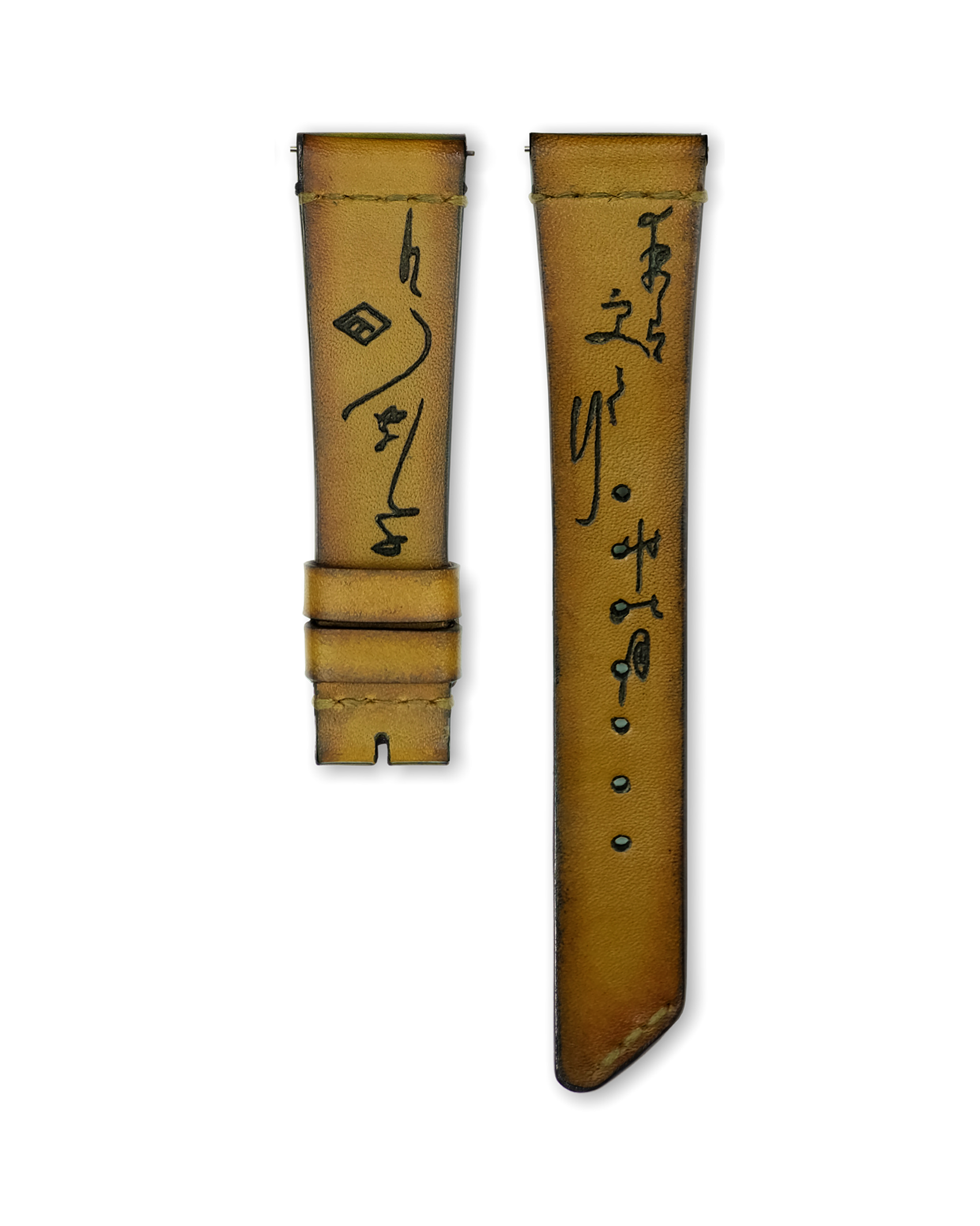 '芥子色' KARASHI-IRO STRAP
HIROSHIGE presents our next line of limited production, artisan-made HIROSHIGE Straps. Coming to you in karashi-iro (sahara), our new line of HIROSHIGE straps features our unique Hiroshige script engraved on hand-patinaed leather.
Made of calf leather selected for suppleness, the HIROSHIGE Strap – like all our other products – promises to redefine established price-performance benchmarks by delivering all the elements of a haute horlogerie strap at a more than decent price.
Lengths:
Standard: 115mm/75mm
Small: 105mm/70mm
Large: 130mm/80mm
Lug/Buckle widths: 20mm / 16mm
Upperside color: Karashi-iro (Sahara)
Underside color: Olive-green
Hand-dyed Patina
Engraved Hiroshige script (original poem)
Embossed logo on underside
Revised quick-release spring-bars at lugs end
Hand-made & hand-cut
Limited production and shall not be repeated
KARASHI
The sahara color presents an optimistic character, with its warm & elemental aesthetic illustrating a cheerful vibe for the wearer. From the natural aging of the hand-patinaed leather to the engravement of Hiroshige-sensei's poem; the idea of finding beauty in nostalgia is exemplified in the beautiful karashi-iro strap which portrays an ever-growing unique beauty as the leather naturally ages.
HIROSHIGE SCRIPT
All Hiroshige straps are engraved with legendary Ukiyo-e artist Utagawa Hiroshige's original handwritten poem from an original artwork ca. 1840. The poem is loosely translated as: 'The moon indulges into the night in various ways.' 
HAND PATINA
Each leather strap is further hand-dyed using the anticatura patina technique, bringing an additional level of character and refinement to Hiroshige straps. No two leather patina products will ever look the same, and they will over time take on their own character and personality by building on the original patina as it ages.