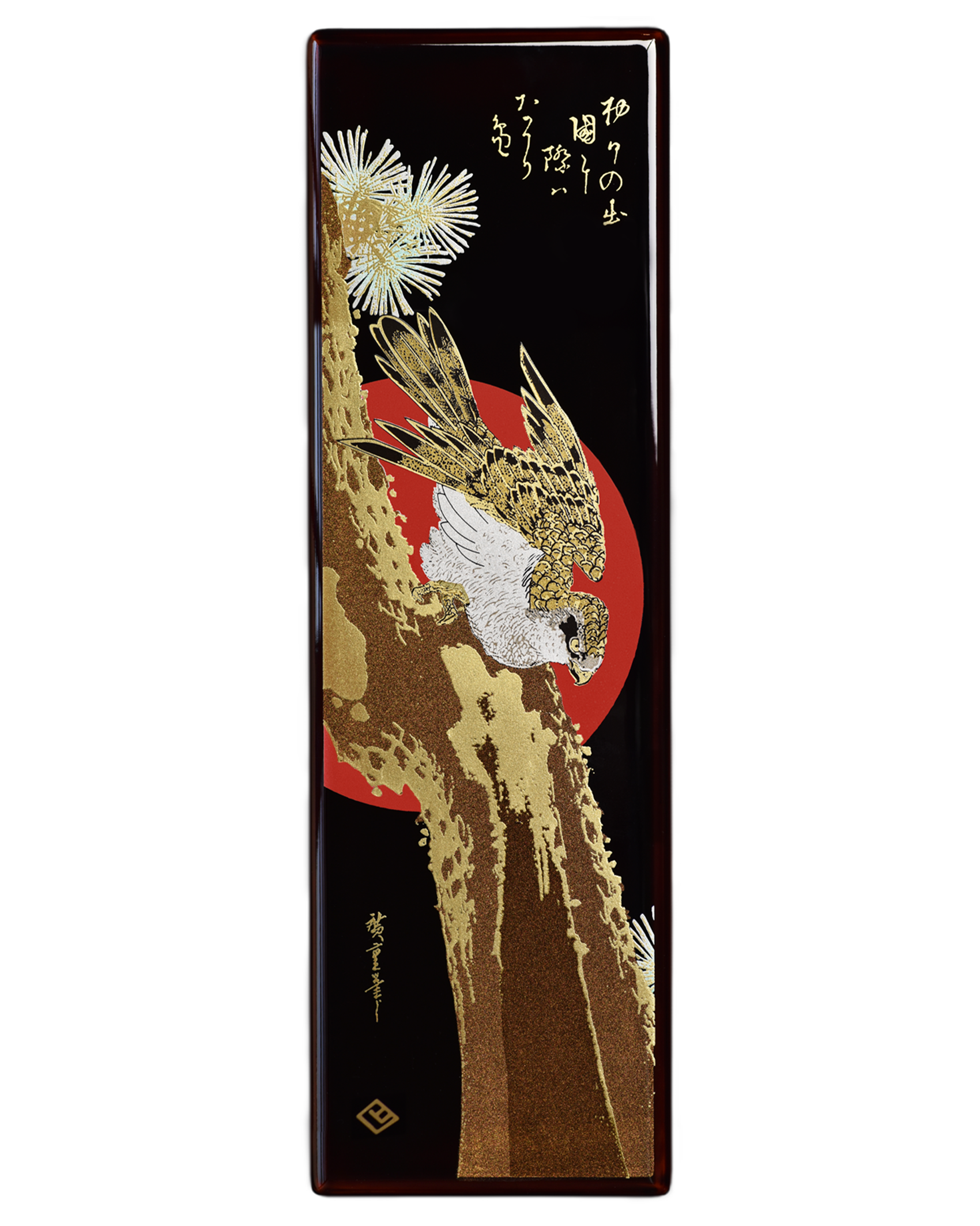 'HAWK & PINE:松に鷹 TAMENURI MAKI-E' BOX
HIROSHIGE presents our newest and most intricate tamenuri maki-e urushi watch box - based on an original ukiyo-e artwork, 'Hawk, Pine, and the Rising Sun -
日の出に松に鷹' from 1830 in our private collection by Utagawa Hiroshige.  
The base of the box is finished in our classic akane-tamenuri urushi method - where layers of red urushi (akane-urushi) are first applied by hand, followed by multiple layers of translucent black-suki urushi applied over the red base. While the box looks black, where the suki-urushi is the thinnest at the edges, the akane-urushi color peeks out and over time the red will become more vibrant.
An intricate maki-e then details a hawk perched on a pine tree branch against a vibrant rising sun in the background. Leveraging primarily gold, bronze and silver - the virtuosity of Hiroshige's art can be seen throughout such as in the fine detailing of the feathers of the hawk and the intensity of its eyes.
This artwork by Hiroshige reveals important auspicious symbols - with 初日の出 Hatsuhinode - the first sunrise of the year - such as the prominent Hawk. In the background; the 松-pine tree which represents steadfast longevity is captured. The hawk 鷹, as one of the important elements celebrating 初夢 Hatsuyume - the first dream in the New Year - is also an ancient symbol of strength, speed and fortunes rising.
Dimensions: 265mm x 80mm x 35mm
Single watch box 
Wood exterior with felt interior
Two-part box (lid & base)
Red akane-urushi base, with suki-urushi layers applied over it
Handmade in Kanazawa
Price: JPY 43,500 (US$395)
Hawk, Pine, and the Rising Sun
MAKI-E
Maki-e (蒔絵) - a form of Japanese lacquer painting where the design is sprinkled with gold or silver powder and has, for the longest time, been held in high recognition and renowned for its exquisite beauty and artistry.
日の出に松に鷹
HIROSHIGE presents our newest and most intricate tamenuri maki-e urushi watch box - based on an original ukiyo-e artwork, 'Hawk, Pine, and the Rising Sun -日の出に松に鷹' from 1830 in our private collection by Utagawa Hiroshige. 
Tamenuri Urushi
Made with Tamenuri, an ancient Japanese urushi application technique dating back to the Jomon Period (14,000 to 300 B.C.), and slowly perfected over time from craftsman to craftsman.